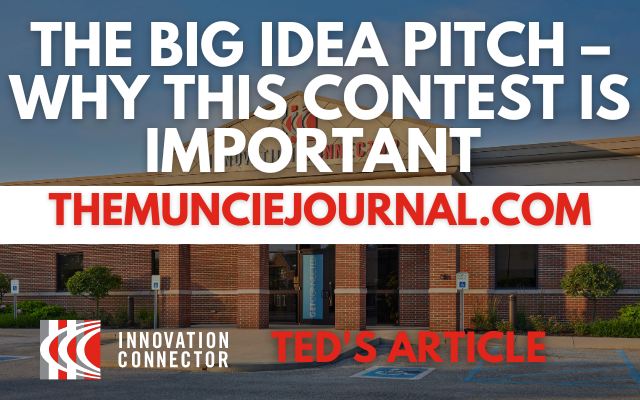 The BIG Idea Pitch – Why this Contest is Important
Muncie Journal Article – July 2023
By: Ted A. Baker, CEO/Executive Director
Muncie Innovation Connector, Inc.
The BIG Idea Pitch – Why this Contest is Important
During my thirteen years as Executive Director of the Muncie Innovation Connector, I have met with, coached, advised, counseled, and encouraged many individuals who have thought about starting or owning a business.  This continues to happen several times each week.  In addition, the Small Business Development Center, located in the Innovation Connector, meets with clients in Muncie and East-Central Indiana, hoping for the same. With the availability of resources found on the internet, getting information about how to start a business is easier today than ever before. And with this vast amount of information, people sometimes deal with what I call "information overload." More data, information, and resources are available than most can navigate.  Then the question is asked, "Is this good information?" "Have I received the best advice for my ideas and ventures?"
In 2014, in response to the need for business startup information, the Innovation Connector formed a program known as The BIG Idea Pitch.  Our initial thoughts were to provide educational and business idea-sharing opportunities in a safe and fun environment. We wanted one evening dedicated to individuals pitching their business ideas to a panel of judges.  And because of our wonderful sponsors, we offered prize money for winning pitches. Keeping with the baseball theme, we hosted three Training Camps leading to the pitch competition.  Guest presenters shared their perspectives on topics, including idea generation, problem and solution identification, business modeling, and presentation pitch skills. Year one of The BIG Idea Pitch competition was a BIG success!
From 2014 – 2021, The BIG Idea Pitch became a very popular event and one of the "signature events" of the Innovation Connector. Each year, at least fifty Muncie-area ideators participated in The BIG Idea Pitch competition by attending the Training Camps and pitching business ideas.  We even hosted this competition in November of 2020 – the pandemic year.  Each year as part of the event, pitch nights were streamed via several social media platforms, with viewers reporting from many states outside Indiana – even California.  Due to scheduling and funding issues, The BIG Idea Pitch did not occur in 2022.  However, I am pleased to announce that The BIG Idea Pitch returns on November 16. as part of Entrepreneur Showcase Week 2023.
Why does the Innovation Connector invest so much staff time, energy, and money into this initiative? Here are three reasons why we value The BIG Idea Pitch.
1.) The BIG Idea Pitch provides an opportunity, unlike any other in our community, to collaborate with other ideators and to learn the art and science of launching a business from an idea. Most people with a business startup idea tend to daydream about their ideas, plans, and how to get started.  Having the opportunity to talk with other people "like" them can provide tremendous benefits.  Those who have walked this journey before can share their experiences and things to do and what not to do. This kind of support cannot be gained by reading a book or watching a video.  These connections and relationships are difference-makers for a startup entrepreneur.
Starting a business takes work! A person must go through the process to understand the depths of commitment and learning needed.  The BIG Idea Pitch initiative provides a place that offers educational opportunities for entrepreneurs to gain critical knowledge, advice, and feedback from experienced entrepreneurs. This is why this program has been so successful.
2.) The BIG Idea Pitch is a community-wide event that brings together businesses, funders, people with ideas, educators, and local government officials for a common cause.  Everyone loves a business startup success story! When a person starts a new business, the impact can be felt community-wide. Lending institutions and funders can finance deals, community members love to support new businesses, and government officials celebrate because they understand that healthy communities need new businesses.  And new startup owners can start their journeys and dreams of owning a business. Pitch night is such a fun and inspiring evening.  We learn each year that the Muncie community has a vast array of creative business talent. The ideas pitched during past competitions have been amazing.  Those participating ranged from very young ( 8 years old) to baby boomers (60+ years old,) high-tech inventors to pizza makers, and dreamers wanting to start a business to send deceased loved ones' ashes into space to a simple invention that makes buttoning the top button of a hanging shirt easier. And the list goes on and on.
3.) The BIG Idea Pitch is all about people. The Innovation Connector staff has made the application and participation process simple and easy.   The goal has been to remove as many barriers to entry as possible. First, it is free and open to everyone in Muncie and Delaware County. The BIG Idea Pitch provides educational opportunities and access to available resources to participants if they hope to start a business.  Our team, supporters, and presenters will help anyone who requests help – from refining an idea to structuring their pitch.  Applying to participate on pitch night could not be any easier. All that is required is to go online to TheBIGIdeaPitch.com, provide your name, home address, contact email address, and phone number and, with three sentences maximum, explain your idea. You will then be contacted, and our team will guide you through the rest of the process.  In addition, the prize money awarded to the winning pitches can be used for any purpose – no strings or rules attached.  While we hope the winning dollars will be used to start a business, sometimes in life, more pressing needs may hinder a person from moving forward.  One pitcher used the winning funds to repay a school loan, hindering this person's monthly cash flow. After paying off the student loan, this person could afford to move forward with the business startup idea.
Mark your calendars now for the following dates:
The BIG Idea Training Camps: October 23, October 30, and November 6- each date from 6:00 – 7:30 pm
The BIG Idea Pitch Competition Pitch Night: November 16 – Starting at 6:00 pm
All events will take place at the Innovation Connector.
Please consider joining the Innovation Connector to be part of The BIG Idea Pitch 2023.  Applications will be accepted starting on August 1, 2023, at www.showcaseweek.com, and click on the "The BIG Idea Pitch" icon. For more information, please log on to www.innovationconnector.com, or call our office at 765-285-4900.
https://innovationconnector.com/wp-content/uploads/2023/07/side-gigs-and-side-hustles-640-×-400-px.png
400
640
Ashli Smith
https://innovationconnector.com/wp-content/uploads/2015/09/IC_StackedLogo2.png
Ashli Smith
2023-07-31 13:50:07
2023-08-02 14:04:46
The BIG Idea Pitch – Why this Contest is Important