Women's Peer Collective
The Innovation Connector theme for 2023 is "Empowering Entrepreneurs." As our
mission, vision, and values prioritize business growth and provide resources for
entrepreneurs and small businesses, we have created an 8-session program that
reaches a very specialized part of our community.

The Innovation Connector will facilitate the opportunity to gather twelve women
who own businesses or are non-profit Executive Directors/CEOs. The goal for this
group is to learn from each other's experiences and help each other grow in their
business journeys. Welcome to the Women's Peer Collective. While friends and
family are very supportive, they may not quite understand your hardships and the
pressure you are under while running and maintaining a business. Having a group of
women who understand this lifestyle is crucial to have in your corner. Our hope is
for this group to become a team that is devoted to helping each other grow.
The Session will be on the Following Dates
Every other Thursday 11:30 am – 1:00 pm at The Innovation Connector
September 7th
September 21st
October 5th
October 19th
November 2nd
November 16th
November 30th
December 14th
What to Expect: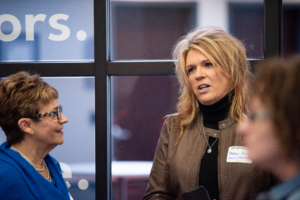 Each session will be held every other Thursday 11:30 am – 1:00 pm starting September 7th. Since your busy lives keep us active after normal work hours, these sessions will be held during the workday. If you desire, feel free to bring your lunch. Members of the group will lead the meetings after the first one. An InnovationConnector team member will facilitate the initial meeting. During the first meeting, the group will decide what needs exist and provide input on how the group will function each week. Each session will then be led by one or two members on a topic
of their choice. Each session will include group discussions about the topic of the day.

*Don't worry: your secrets, brilliant ideas, and "I fell flat on my face!" moments are safe with us. Each group member must sign a non-disclosure agreement, ensuring a safe, open, honest, and vulnerable environment.
Before You Apply
We have some requirements to ensure each member has the best, meaningful
experience. 
After you have filled out the application form, if accepted, you will be
sent further information and documents, such as a confidentiality and program
agreement form.
– WILLINGNESS TO SHARE YOUR EXPERIENCES AND YOUR IDEAS.
– ATTEND EACH MEETING EVERY 2 WEEKS, STARTING SEPTEMBER 7.
– COMMIT TO HONEST AND TRANSPARENT DIALOGUE.
– BRAINSTORM AND IDEATE WITH THE GROUP.
– SET GOALS TO ALLOW YOU TO MAKE PROGRESS TOWARDS YOUR GOALS.