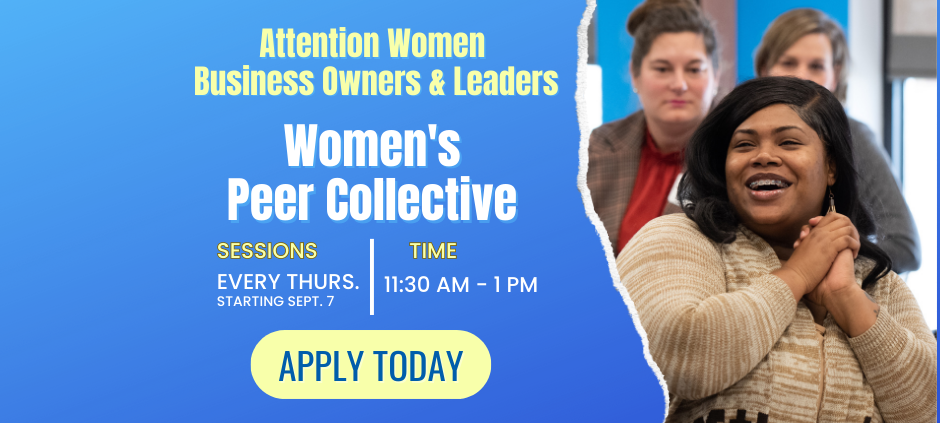 Empowering Entrepreneurs: Introducing the Women's Peer Collective
The Innovation Connector's theme for 2023, "Empowering Entrepreneurs," is an exciting endeavor that aims to support and uplift the entrepreneurial community. As part of this mission, we are thrilled to announce the launch of the "Women's Peer Collective," a unique 8-session program specifically designed to bring together twelve women who own businesses or serve as non-profit Executive Directors/CEOs. The primary objective of this collective is to foster an environment of mutual learning and growth, where members can draw from each other's experiences and help one another thrive in their entrepreneurial journeys.
Running and maintaining a business can be an incredibly rewarding but challenging experience. While friends and family are undoubtedly supportive, sometimes they may not fully grasp the unique hardships and pressures. That's why having a group of like-minded women who truly understand this lifestyle is essential. Our vision is for the Women's Peer Collective to evolve into a tight-knit team that remains devoted to each other's growth and success.
The Women's Peer Collective will hold sessions every other Thursday from 11:30 am to 1:00 pm, commencing on September 7th. Understanding the busy lives of entrepreneurs, we have deliberately scheduled these meetings during the workday. Participants are welcome to bring their lunch to the sessions for convenience.
The dynamic of the group will be collaborative, with members leading the meetings after the initial session. To ensure productive discussions, an Innovation Connector team member will facilitate the first gathering. During this introductory meeting, the group will collectively decide on the topics of interest and how the sessions will function each week. In subsequent sessions, one or two members will lead the discussion on a topic of their choice, encouraging engaging group conversations.
Rest assured, the Women's Peer Collective is a safe space where confidentiality, openness, honesty, and vulnerability are respected. To maintain this trusted environment, each member will be required to sign a non-disclosure agreement.
The Sessions:
Mark your calendars for the following Women's Peer Collective sessions from 11:30 am – 1 pm, all to be held at the Innovation Connector:
– September 7th
– September 21st
– October 5th
– October 19th
– November 2nd
– November 16th
– November 30th
– December 14th
Join us as we embark on this exciting journey of empowerment, growth, and support for women entrepreneurs and leaders. Together, we will build a thriving community that uplifts each other to reach new heights in our business ventures. The Women's Peer Collective looks forward to welcoming you into our circle of empowerment and inspiration. Let's create a brighter future together!

For more information and to apply, click here.
https://innovationconnector.com/wp-content/uploads/2023/07/IC-Womens-Peer-Collective-1.png
600
940
Ashli Smith
https://innovationconnector.com/wp-content/uploads/2015/09/IC_StackedLogo2.png
Ashli Smith
2023-07-17 19:39:17
2023-07-17 19:41:43
Empowering Entrepreneurs: Introducing the Women's Peer Collective