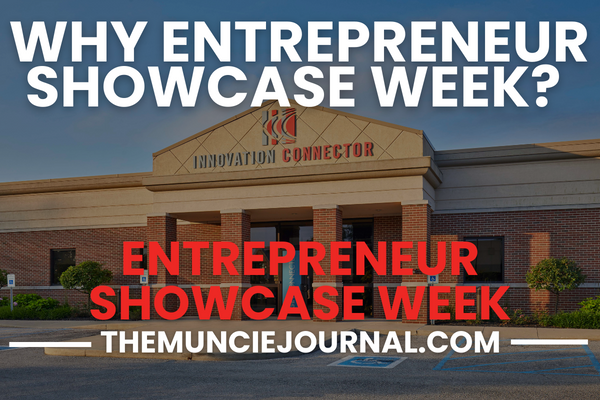 Why Entrepreneur Showcase Week?
By Ted Baker CEO/Executive Director, Muncie, Innovation Connector, Inc.—
MUNCIE, IN—With about one month to go before the Innovation Connector engages in the most extensive series of events for businesses and entrepreneurs in its history, I was recently asked the question, "Why is the Innovation Connector doing this?"  I thought that was a really good question, and I want to share my answer with you.
Over the past twelve-plus years of being at the Innovation Connector, I have met with many entrepreneurs and business owners who requested a need for training, services, or connections.  Being a business owner is difficult and oftentimes very lonely.  Understanding where to get a question answered about a business issue or how to make the best decision for a business is not easy to do.  While one part of the Innovation Connector's mission is to serve the technology-based entrepreneurs with offices in our center, we also believe it is important for us to serve the businesses of the greater Muncie community.  We have done this over the years by coaching business owners, hosting workshops and educational opportunities, and partnering with other entrepreneurial service organizations.  The East Central Indiana Small Business Development Center and Bankable are organizations we have teamed with to provide these services.
As I have highlighted in previous articles, the Innovation Connector's mission is "To see job creation by providing guidance and entrepreneurial resources for individuals seeking to start or grow businesses in East Central Indiana," Our Vision Statement further states, "Our passion is to see that each person who has a dream to start or grow a business has every resource to be successful and the economy of East Central Indiana flourishes." Entrepreneur Showcase Week is aligned with both our mission and vision and over the past years, our organization has served hundreds of entrepreneurs and business owners.
Entrepreneur Showcase Week will be a platform to expand our services, partnerships, and reach in the entrepreneurial community. There will be twenty separate events in one week at the Innovation Connector about various topics and best practices that we have observed as needs of entrepreneurs and business owners.  Entrepreneur Showcase Week is not "about" the Innovation Connector.  It is about the people we serve daily – business owners and others who want to start businesses. It is about providing resources and answering questions that we have been asked over the past years.  Entrepreneur Showcase Week is about networking with like-minded people. Those who dream like us and have big plans like us.  The workshops, panel discussions, and events are mostly led by business owners and entrepreneurs in our community. Entrepreneur Showcase Week is about learning together how we can make our businesses more successful, more profitable, and sustainable.
Entrepreneur Showcase Week is also a celebration.  A celebration of business owners who are successful, a celebration of entrepreneurs with dreams and aspirations of starting a business someday, and a celebration of a community that supports local business owners.  The Innovation Connector's theme for this year is "Celebrating Entrepreneurs in 2022," which is what we will continue to do.
This week would not be possible without the support of amazing sponsors and participating businesses.  Again, because of our generous sponsors, nearly all of the events are FREE to attend.  Thank you, sponsors, for investing in the Muncie business community.  A listing of all sponsors, as well as a complete listing of all events and descriptions, can be found at www.ShowcaseWeek.com.  If you plan to attend any of the events during Entrepreneur Showcase Week, please register at the same link.  Space is limited for most of the events, so register early to secure your place.  Since opening registrations on September 19, we have received many registrations, and events are filling up quickly.
Please come and celebrate with us – with your community.  Entrepreneur Showcase Week, November 14 – 19.  Visit www.showcaseweek.com, or call the Innovation Connector at 765-285-4900 for more information.
https://innovationconnector.com/wp-content/uploads/2022/10/Celebrating-Entrepreneurs-4.png
400
600
Ashli Smith
https://innovationconnector.com/wp-content/uploads/2015/09/IC_StackedLogo2.png
Ashli Smith
2022-10-12 15:46:57
2022-10-26 13:32:33
Why Entrepreneur Showcase Week?