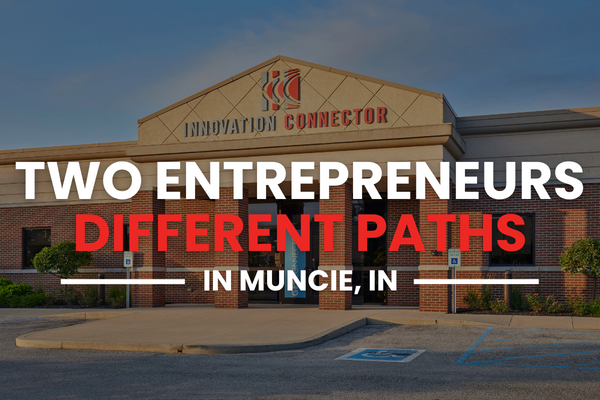 Two Entrepreneurs – Different Paths
By Ted A. Baker, CEO/Executive Director, Muncie, Innovation Connector, Inc.—
MUNCIE, IN—The Innovation Connector's vision states, "Our passion is to see that each person who has a dream to start or grow a business has every resource to be successful, and the economy of East Central Indiana flourishes." This vision is being fulfilled every day at the Innovation Connector.
Throughout my career, I have worked with hundreds, maybe thousands, of entrepreneurs wanting to either know what needs to happen to start a business or how to grow a business. These entrepreneurs have come to me with various wild, crazy, unique, and creative ideas. They have taken different journeys to get to their destinations. For some, it is a dream to start a business; for others, it might be a passion project. Many have created businesses out of necessity to earn a living and support families. I have learned a lot about "side-gigs" – a way for someone with a business idea to start a business without giving up the day job. The one thing that is constant through all of my work with entrepreneurs is that I have never met two entrepreneurs who are alike. Maybe similar, but different in some aspects. I've heard it said, "If you've met one entrepreneur…you have met one entrepreneur."  Wow, is this statement true!
This article will focus on two entrepreneurs I have worked with, assisting with their business needs. Both are on different paths, but with one central focus – to own and operate their own business. This work excites me and is why I love what I do at the Innovation Connector.
Lathay Peagues, founder and co-owner of JohnToms BBQ, has been in business since 2006. Lathay spent several years working in television and radio broadcasting, including a time with the Muncie Star Press. Lathay's grandfather was known in the Muncie community for his BBQ sauce concoction. He made his special sauce for family and friends, but no one knew his secret recipe. So when Lathay's grandfather passed away, so did the recipe for his BBQ sauce.
Hoping to duplicate the secret recipe, Lathay worked five years to replicate what his grandfather created because he missed it and wanted to "get that taste back." Through this process and his grandfather's inspiration, Lathay chose to remake his grandfather's recipe with his added twist to "make it his own." Thus, JohnTom's BBQ sauce!
While working as a reporter for a Milwaukee television station, the station closed down. Lathay knew this was the perfect time to launch John Tom's BBQ as a business – with a big vision and little money. Lathay contributes his early success to his dream and extreme drive. Lathay observed, "Everything is going against you when you decide to start a business – people and situations telling you why you shouldn't be doing it. All I knew was I had to keep going!" The business' first break came when Rick's Café Boatyard in Indianapolis signed on as a client. Lathay thought, "If Rick's Café Boatyard believes in this product, maybe we have something special here." Lathay further said that a pivotal point in the business journey came when Ball State University signed on as the first college/university customer. "This was huge for us and forced us to think differently about our distribution and operating model."  Since then, other universities such as Notre Dame, Indiana University, and others currently use JohnTom's sauces.
While the business has continued to grow, so have the challenges. Lathay is very clear, "I love what I am doing. From the beginning, I sensed that God somehow was involved in this business and that I am part of that process." For those who would like to turn their dreams into businesses, Lathay has a few words of advice. "First of all, do a self-inventory. Know who you are, and be honest with who you are. Recognize your personal strengths and weaknesses. Above all, be honest."  He continued, "Starting a business is extremely hard work. It may not yield immediate results, so you must be ok with delayed gratification."
JohnTom's BBQ can be found in local grocery stores, online on Facebook, @johntomsbbq, www.johntomsbbq.com, and on Amazon. JohnToms is my personal favorite BBQ sauce, and I give it my full endorsement.
Please meet Dafina Kirk. Dafina is a mother of seven children, ages from 17 years old to 8 months old, who has more energy and ideas than 99.5% of all other humans I have met in my time at the IC. Dafina has seen the challenges of African American men and women attempting to start businesses and not understanding the resources available to guide them. She has seen many startup failures and businesses not making it, and she knew she could help! Her company, Adeedee Solutions, LLC, is serving emerging business owners by filling in the gaps in their business foundations, including business structure and proper accounting procedures. Adeedee provides analysis and internal audit services to identify gaps and shortcomings that hinder business growth. Dafina states, "Most businesses cannot even begin to apply for resources because their businesses do not have the proper business structure. My goal is to help these businesses advance. For example, many minority-owned businesses missed out on the federal Payroll Protection Program (PPP) due to not having the proper financial records or not having a local banking relationship. I can help people through these issues."
Dafina's journey as an entrepreneur has had many twists and turns. Starting as a cosmetologist, she learned the basics of business. Through the pandemic, she saw many black-owned companies struggle to stay in business, so she created Adeedee Solutions to answer this need. To get to know clients and for clients to know her, Dafina spends a lot of time networking in the Muncie community. One example, she hosted a free Informational Share titled, "In all thy doing, do good business" at the Muncie Library Kennedy Branch on July 15. More such discussions will take place in the future. To directly reach Dafina, please email her at adeeadeesolutions@gmail.com.
Lathay's and Dafina's paths, while different, are indicative of the journey of an entrepreneur. Both continue their journeys with emotion and passion for what they do, each with unique challenges to overcome. Determination is their guide, and having the willpower to succeed is a must. While Lathay and Dafina are highlighted in this story, they are somewhat typical entrepreneurs. Both are examples of people who are pursuing their dreams for the future.
If you have thoughts, ideas, and dreams about starting a business or need assistance growing your business, the Innovation Connector is a great place to start. Please feel free to contact us at 765-285-4900 or by emailing tbaker@innovationconnector.com. Next month's article will unveil a special week of entrepreneurial celebrations that will take place at the Innovation Connector in November.

1208 W. White River Blvd.
Muncie, IN 47303
(765) 285-4900
https://innovationconnector.com
https://innovationconnector.com/wp-content/uploads/2022/07/Celebrating-Entrepreneurs.png
400
600
Ashli Smith
https://innovationconnector.com/wp-content/uploads/2015/09/IC_StackedLogo2.png
Ashli Smith
2022-07-27 13:38:55
2022-07-27 13:38:55
Two Entrepreneurs – Different Paths