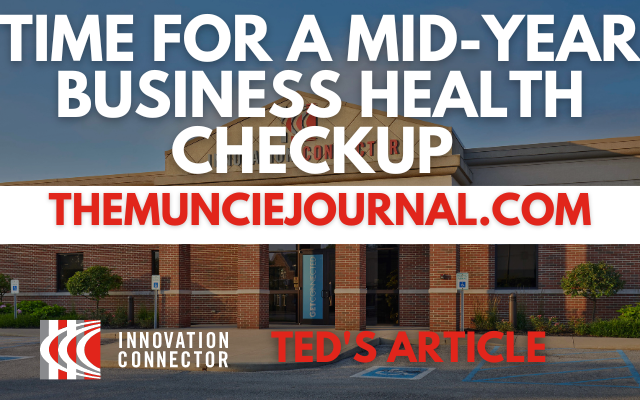 Time for a Mid-Year Business Health Checkup
Muncie Journal Article – June 2023
By: Ted A. Baker, CEO/Executive Director
Muncie Innovation Connector, Inc.
Time for a Mid-Year Business Health Checkup  
It is hard to believe that 2023 is nearing the halfway point. After enduring a cold winter and unpredictable spring, warm, nice weather and days full of sunshine are welcomed. During this time of year, it is important to consider reviewing the status of our businesses and organizations. Much like my semi-annual physical with my doctor, assessing what is going well and what is not is vital for businesses and organizations.  Making changes midway through the year related to my personal health and wellness can alleviate the serious problems that could occur if I wait too long. We know that identifying a physical problem in its early stages of development can save our lives and lead to less intrusive and costlier remedies. For my doctor to gain insight into my physical health, he orders a full regiment of blood tests a week before my appointment. The numbers and blood test results do not lie. They highlight specific problem areas so that during my appointment, we can discuss any root issues and possible steps to improve my health. As I have gotten older, I value these times with my doctor.  He celebrates the victories and accomplishments with me but is also very candid in telling me the hard truths if needed. Only when I know the truth can I choose to make the needed changes. And honestly, my health has improved significantly over the past few years because I have chosen to hear the truth and listen to his professional advice.
We owe the same level of attention to our businesses and organizations. Far too often, many business owners have not taken the time to evaluate how they are doing – until it is too late. Just because a business owner or organizational leader "thinks" things are going well does not mean they are. I have often heard, "There is money in my bank account. Things are going great." Not only are they missing a critical piece of business management, but this mentality is also dangerous and can quickly lead to business failure. I suggest that business owners and leaders of organizations do what I do – get their "business bloodwork" reviewed to learn the truth about their organizations. Of course, what I mean by this is to check the data and information that impacts the health and wellness of the organization. Doing this regularly will uncover and reveal trends and situations that should be corrected before it's too late. You will also probably learn what parts of the business are going well so you can capitalize on them. I recommend that a few areas be reviewed during a business health checkup.
1. Identify the Key Economic Indicators for your business or organization. In my past business ventures, I always practiced this concept.  While owning a manufacturing business, I regularly looked at four key economic indicators. 1.) Cash in our bank account, 2.) The dollar amount of Accounts Receivable, 3.) The dollar amounts of Accounts Payable, and 4.) The total dollar amount of all outstanding customer orders. Combined, these indicators painted a clear picture of the business's health. For your business, the key indicators might include total payroll hours or dollars spent each week, weekly sales, the amount of inventory, customer satisfaction reviews, employee productivity, or other factors that are key to your business's success. These same principles also apply to nonprofit organizations since similar best practices apply to both.  I challenge you to decide on three of four key economic indicators for your business and monitor each regularly.
2. Plan a regular review of the financial documents for your business or organization. This sounds easy, but this is difficult for many business leaders. Just like bloodwork, the numbers tell the true story!  If the documents and data indicate a healthy business,  celebrate and build upon that success.  If the news is not so positive, be thankful that you know the truth and can make the appropriate changes to your business operations. Not knowing will sink your business or organization.  And trust me, the bad news does not go away when we ignore it – it compounds! Many owners fear reviewing their businesses' financial status with an outside professional. I understand – it can be embarrassing.  But to improve your financial condition, it must be done.  
In my many years working with business owners and nonprofit leaders, I have been shocked by the number who fail to keep accurate records or any records at all. Maintaining accurate and up-to-date records is not merely an activity to keep bookkeepers and accountants busy but are instruments and tools to grow and sustain your business. They compare past business growth or losses and keep a perspective on costs and expenses.  You also might better understand your customer base and what are the most profitable and successful products and services you provide.  
3. Business health checks are important to examine the leader's mental health and wellness. As the leader goes – so do the followers. Unless you as a leader are healthy, the sustainability and longevity of your business hang in the balance. After all, while leading a business or organization is hard work, there should be some aspects of fulfillment and satisfaction in your efforts.  You are making meaningful contributions to your community. You have the opportunity to influence and inspire coworkers and others around you.  Successful business owners not only create wealth for their families, but they can also financially contribute to the needs of their communities. Another aspect of being a business leader needs to be discussed. Business owners and nonprofit executives can live a very lonely life.  I understand – I have been there too. People in these positions find it difficult to share with others they employ or work with. Many times, we do not believe anyone else will understand or care.  Please find someone you can trust outside your business or organization to talk with. You will find out they will soon be a lifeline for you.
I hope this helps you understand the importance of regular business checkups. The Innovation Connector offers this service free of charge to any business or organization in the Muncie community. The only thing required beyond supplying the documents we believe are needed is total honesty and a commitment to move your business or organization forward. If you want to participate in a regular business health check, please get in touch with me at tbaker@innovationconnector.com or our office at 765-285-4900.  Our services are confidential and private.  You and your business will be glad you do.
https://innovationconnector.com/wp-content/uploads/2023/06/side-gigs-and-side-hustles-640-×-400-px-3.png
400
640
Ashli Smith
https://innovationconnector.com/wp-content/uploads/2015/09/IC_StackedLogo2.png
Ashli Smith
2023-06-19 13:12:54
2023-06-19 13:12:54
Time for a Mid-Year Business Health Checkup