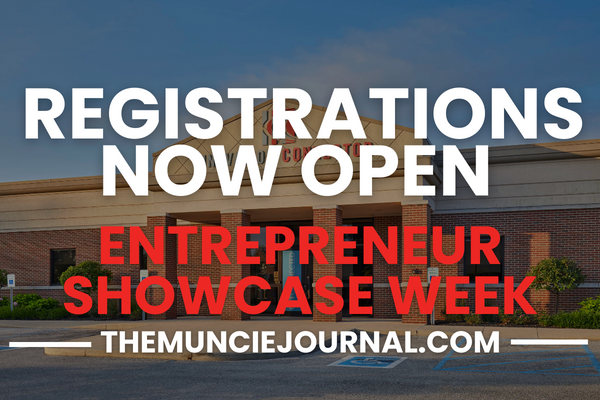 Registrations for Entrepreneur Showcase Week Now Open
MUNCIE, IN—Entrepreneurs play a major role in impacting nearly every component of the economy – as the biggest source of jobs and income for employees in the nation, by investing in community projects and financially supporting charitable causes. They are the drivers of new job creation, innovative products, and services and lead the way for social changes in our society.
Since announcing the activities of Entrepreneur Showcase Week in last month's article, many businesses and entrepreneurs have committed their support of this twenty-events-in-one-week extravaganza. Entrepreneur Showcase Week will be unique for several reasons. First, to the best of my knowledge, nothing like this exists in any city anywhere. These events will be a great way to cap off the Innovation Connector's focus on Celebrating Entrepreneurs in 2022.
Second, Entrepreneur Showcase Week will bring together the most diverse, inclusive, and variety of business people our community has ever seen.  There will be learning and networking opportunities for all entrepreneurs to benefit from to help either start or grow their businesses.  Entrepreneurs can participate in workshops about creative marketing, funding a business, bookkeeping and accounting best practices, how to start a business, and understanding IT needs and security for businesses.  Specialty sessions will include opportunities for women and minority-owned businesses, starting/growing a restaurant, the importance of side-gigs, and learning about entrepreneurs in the maker's space.  And there is so much more. Please find a complete list of available sessions at www.showcaseweek.com.
Third, this week will be a week of partnerships and peer-to-peer training. Starting or growing a business is hard work. It literally takes a community to grow successful businesses.  Entrepreneur Showcase Week will highlight regular entrepreneurs in our community who have learned from both their successes and failures. They will lead workshop sessions and participate in panel discussions.  Many organizations are partnering to make this week special.  While the Innovation Connector is leading the charge, Ivy Tech Community College, the Indiana Small Business Development Center, the Small Business Administration, Ball State Entrepreneurial Institute, Madjax, the City of Muncie, and the Shafer Leadership Academy are among the partnering organizations.  It is in this spirit of working together that this week's focus will be on supporting entrepreneurs and providing resources and tools to help their everyday needs.
One of the sponsors, Spotted Monkey Marketing, will be a presenter for the session, "Creatively Marketing Your Business."  This session will be led by the owner, or Head of Monkey Business, Ashli Smith.  Ashli sees the potential impact of a week as this. "As a business owner and employer in the Muncie community, Spotted Monkey Marketing is thrilled to have an integral part of this event.  By offering such a wide variety of resources for entrepreneurs, Entrepreneur Showcase Week will impact the direction and successes of hundreds of businesses.  Our decision to be part of it is a no-brainer. "Ashli and her team are also very involved in this project by providing the graphics, website work, print, and social media marketing, as well as décor that will be in the Innovation Connector. "We chose Ashli and Spotted Monkey to work with us on this project because of their energy level and vision for small businesses in our community," says Lori Albert, Financial Director at the Innovation Connector. "Their passion shows through in their work."
Muncie Mayor Dan Ridenour has expressed his excitement for Entrepreneur Showcase Week and will make a proclamation as such during the first session that kicks off the week on Monday, November 14, at 8 am.  Ridenour stated, "A thriving small business community is a mark of economic vitality, quality of life, and forward momentum. I am so proud that Muncie is a place where anyone can start a business and access the resources, coaching, networking, and support they need to build a legacy. Starting a business is a labor of love, and The City is proud to celebrate and support our local entrepreneurs."
First Merchants Bank is the Title Sponsor for Entrepreneur Showcase Week.  Many thanks go to Market President Jeff Parsons and his team for supporting this event and for the ongoing support of the Innovation Connector and businesses throughout our community.  Jeff is also a member of the Board of Directors of the Innovation Connector.  As a sponsor and directly involved in the work of the Innovation Connector, Jeff's perspective is unique to this week of events.  "I am confident the events and activities during the 6 days of the 2022 Entrepreneur Showcase in November will be impactful.  To no surprise, the Innovation Connector team has collaborated with a diverse group of community partners to assure there is an added value to all who attend.  The event will also highlight the ongoing, year-round support and commitment provided by the Innovation Connector team to encourage and assist small business creation and innovation in our community and region.  First Merchants Bank is proud to support this unique and positive event. "
Registration for all events is open now at www.showcaseweek.com. While most of the events are FREE to attend, we are requesting participants so we can properly plan for space, food, printed materials, and more for each event.  If you have any questions or wish to be part of Entrepreneur Showcase Week, please do not hesitate to contact us at 765-285-4900. Thank you in advance for your participation and support in making this event a success.  In October's article, we will announce the winners of the five categories of the Entrepreneur of the Year Awards.  Please register for events, and if you know an entrepreneur, currently in business or not, please spread the word about this event.
https://innovationconnector.com/wp-content/uploads/2022/09/Celebrating-Entrepreneurs-2.png
400
600
Ashli Smith
https://innovationconnector.com/wp-content/uploads/2015/09/IC_StackedLogo2.png
Ashli Smith
2022-09-19 11:12:03
2022-09-20 16:15:22
Registrations for Entrepreneur Showcase Week Now Open