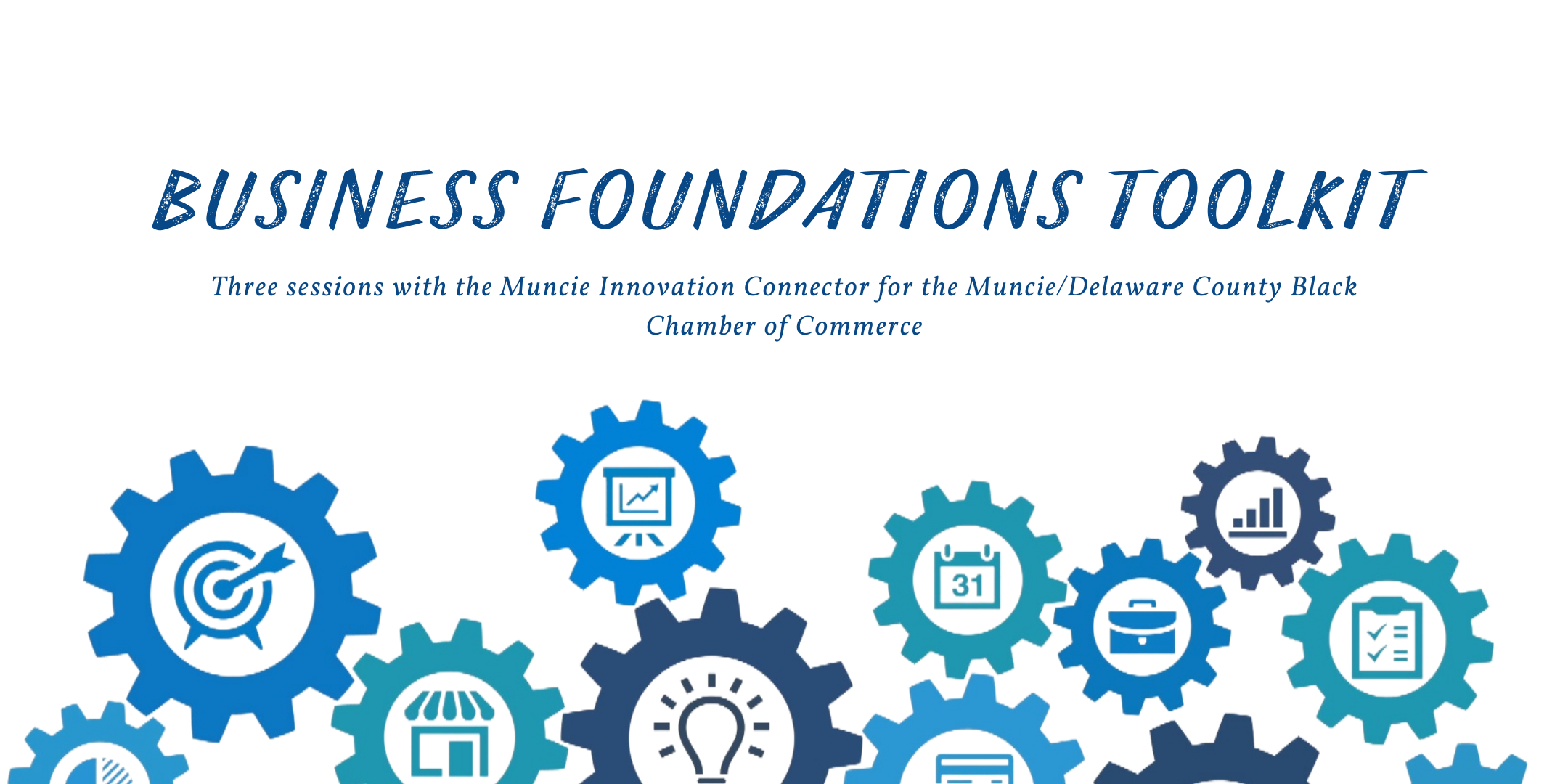 February 26, 2021 – Muncie, IN – The Innovation Connector and the Muncie – Delaware County Black Chamber of Commerce have partnered together to bring you a free three-part workshop titled Business Foundations Toolkit.
For most, starting a business is a dream or a mere thought, but taking the necessary steps to start the business goes beyond just a dream. The first question for many entrepreneurs is, "where do I start?" and while most resources are out there, finding, securing, and trusting those resources can be a hassle. In this three-part workshop, you'll learn the business startup steps you need to take, get answers to specific questions and learn about reliable resources.
Business professionals from the Innovation Connector, Ted Baker and Carter Anderson, will share their entrepreneurial experiences and walk you through the necessary steps to successfully start and grow a business.
This informative workshop is broken down into three sessions. You can view each session's details below.
SESSION 1: March 2, 2021 – So, I want to Start a Business.
With the negative impacts of Covid-19, is now a good time to consider starting a business?
The benefits and challenges of starting your own business.
I have an idea for starting a business. What should I do next?
SESSION 2: March 9, 2021- From Idea to Starting a Business.
Practical steps to starting a business.
Product/Service validation – do customers want to buy what the business is selling?
Do I need to have a complete business plan?
Business operational plan and financial projections
SESSION 3: March 16, 2021 – The Details of Starting a Business.
Funding your business startup & formalizing the business structure
Sole proprietorship
LLC & S-Corp
Developing a timeline to launch your business
Registering for this free workshop can be done by visiting www.businessf-toolkit.eventbrite.com
The Innovation Connector has partnered with The Muncie-Delaware County Black Chamber of Commerce to support their mission of serving as an information resource for developing Black and Minority businesses. 
Supporting the Muncie-Delaware County Black Chamber of Commerce can be done by attending these workshops and applying to become a member of their organization. As a proud member of The Muncie-Delaware County Black Chamber of Commerce, the Innovation Connector encourages you to apply to be a member. 
For more information and to apply to be a member of the Muncie-Delaware County Black Chamber of Commerce, please visit their website www.mdcblackchamber.org