Executive Director of the Innovation Connector comes to Blackford County
By KAREN CORMIER, News-Times Editorial Associate
Mar 6, 2019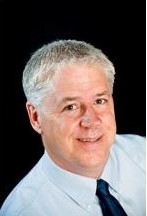 Studies show that 89% of the American business landscape is made up of small businesses employing less than 20 workers. Blackford County is no different. Recently the Blackford County community was invited to an informational roundtable discussion with Ted Baker, the Executive Director of the Innovation Connector located in Muncie.
During the hour-long discussion, held in Montpelier, about the importance of Small Business and Business Startups, Baker went through "the emotional journey of creating anything great." He spoke about the ups and downs, the dark swamp of despair, and the importance of persistence. He explained how some business owners "get lost working in their business, instead of working on their business." He went through some of the mistakes to avoid when starting a new business and/or continuing to grow an already existing small business. Three essential skills were discussed: complex problem solving, critical thinking and collaboration. He spoke with passion about wanting to "strengthen rural businesses" and reaching out to help people of the community reach their goal of becoming a potential business owner.
Baker shared his childhood entrepreneurship with him starting at just eight years old with the mindset that he was all about business. At that time, he had no realization of the big impact he would be giving those who he's been able to help all these years later. Baker has a very open and honest personality. His realistic and practical thinking allows for those he's helping, whether it's coaching or lecturing, to feel connected. It also gives them hope that their dreams of owning or running a business can happen as long as the passion and persistence is there.
At the end of the discussion, those in attendance were offered the opportunity to grow their knowledge of starting up not only a business but a viable business by joining Baker in a six week online training course through the Kauffman FastTrac program. The Kauffman FastTrac program is a flexible course with a solid framework that supports you as you start a business and begin that new journey to success. The immersive course is designed to provide information, tips, exercises and tools to help you think about your business idea. Baker was certified in the fall for this virtual training of the Kauffman FastTrac program. He states "this is the most comprehensive training brought to rural communities."
Listening to Baker speak one thing became very clear, he has a big heart for what he does. After graduating from Ball State University in 1980, Baker's has had a multi faceted career including management of small businesses, the starting, growing, buying and selling of businesses, as well as assisting with the establishment of several area not-for-profit organizations. He has also had experience in successfully exiting a company, franchisee/franchisor relations, and workshop and training facilitation. Baker is a Certified Incubator Manager with the International Business Innovation Association as well as a Certified Growth Wheel and a Certified Wendy Kennedy International Business Coach. Baker serves on several boards as well as an instructor in Entrepreneurship at Ball State all while being heavily involved in the community.
In 2002, The Innovation Connector became a reality by locating in a residential space adjacent to Ball State University and within two years expanded. With continued success, they moved to an interim facility in downtown Muncie. In 2007, the board of directors approved construction of a 15,000 sq. ft facility to be located at the Ontario Place Certified Technology Park completed in 2009.
The past several years have been an exciting time of change and growth for IC. In 2010, they welcomed Baker as the new Executive Director. During this time, the IC number of businesses that call the IC home has increased to over twenty businesses.
The IC provides direct connections to services, resources, experienced business men and women, and supporting agencies right within the building. It also connects them to business professionals in the community. These are connections that individuals might not make on their own. With these connections, their staff has seen the growth of businesses and success of clients, both internal and external. The IC exists for one purpose: to help new entrepreneurs with truly unique business ideas turn their dreams into a reality.
Currently in order to address the needs of transient professionals and home based businesses, the "Landing Zone" opened in, 2013. The Landing Zone is a place for non-traditional entrepreneurs to not only work, but network and grow. Benefits include one desk in a shared workspace, high-speed internet, 24/7 access, use of IC conference rooms, a USPS mailbox, access to a printer/copier, bookkeeping, and business coaching.
In 2014, the IC joined the City of Muncie in a collaborative project sharing in the creation and management of the Downtown Business Connector located on the floor level of The Lofts of Roberts in Downtown Muncie. This collaborative, open concept co-working space allows the Innovation Connector to extend its ever encompassing services to entrepreneurs, independent professionals, freelancers, and startup businesses seeking an affordable alternative to dedicated office space or coffee shop housing.
For more information on the Kauffman FastTrac six week course or on the Innovation Connector please contact Ted Baker via email at tbaker@innovationconnector.com
This article originally ran on hartfordcitynewstimes.com.
https://innovationconnector.com/wp-content/uploads/2015/09/IC_StackedLogo2.png
0
0
Lucas
https://innovationconnector.com/wp-content/uploads/2015/09/IC_StackedLogo2.png
Lucas
2019-03-07 15:58:34
2019-03-07 15:58:34
Executive Director of the Innovation Connector comes to Blackford County