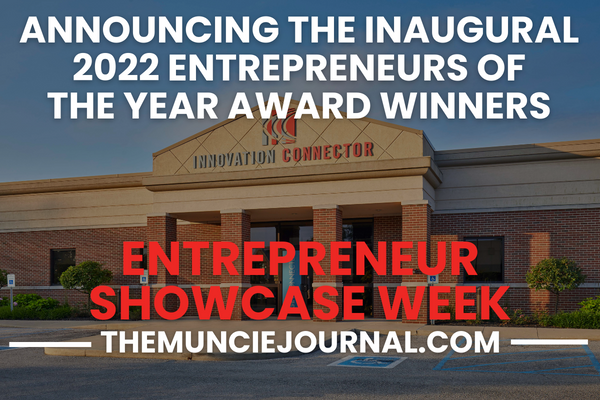 Announcing the Inaugural 2022 Entrepreneurs of the Year Award Winners
By Ted A. Baker, CEO/Executive Director, Muncie Innovation Connector, Inc.—
MUNCIE, IN—Since May of this year, the Innovation Connector has been planning and preparing for Entrepreneur Showcase Week in Muncie.  As a reminder, this event is unique to the Muncie community, and no other community has attempted anything like this.  Entrepreneur Showcase Week comprises twenty workshops, panel discussions, discussion groups, and networking groups during one week – all at the Innovation Connector facility.  Because of our very supportive sponsors, all but one event is FREE.
Why should you attend part of or all of the events during Entrepreneur Showcase Week?  Because there is something that can benefit all entrepreneurs and business owners.  I know that most business-minded people consider themselves "life-long learners."  There is always more to learn, knowledge to share, and data to keep up with.  Over fifty Muncie area business owners, entrepreneurs, and business leaders will participate as presenters and panelists that will highlight topics such as:
Creative Marketing
Computers, IT, and Security for Businesses
How to Start a Business & How to Start/Grow a Restaurant
Developing a Startup Tech Business
Continuing Educational Opportunities for Business Owners
Mental Health Awareness and Work-Life Balance
Makers as Entrepreneurs
Funding Opportunities
Bookkeeping and Accounting
Starting a Side-Gig
Providing Excellent Customer Experiences (from the Disney model)
And more
Additional sessions include a Tailgate Celebration for all entrepreneurs and business owners, a Women's Brunch to celebrate International Women's Entrepreneurship Day, and the Opening Kickoff Celebration to start Showcase Week at 8 am Monday, November 14.  Join us for a Mayoral Proclamation of Entrepreneur Showcase Week, donuts and coffee with Mayor Ridenour, and the Entrepreneurs of the Year Awards presentation.
The 2022 award winners include a special group of talented entrepreneurs in the Muncie community.  Each award winner contributes their success to others who have worked with them as their businesses started and grew.  So, in the true Spirit of Entrepreneurship, we are thrilled to announce the first-ever Entrepreneurs of the Year, and congratulations to each winner.
2022 Technology Business Entrepreneur of the Year
Kurt Harrington, Founder
OEM Combustion Service LLC
---
2022 Life-Style Business Entrepreneur of the Year
Bernisa Elliott
BE's Beauty Inc. & Elliott Property Rentals
---
2022 Restaurant Entrepreneur of the Year
Lynn A. Moore
Café at the Crossing
---
2022 Community-Impact Entrepreneur of the Year
Tiara Hicks
Rosebud Coffee House
---
2022 Legacy Mentor Award
Peggy Cenova
East Central Indiana Small Business Development Center
---
Please join us during this Kickoff Celebration to celebrate the winners' impact on our community. If you plan to attend, RSVP to nsmith@innovationconnector.com so we can ensure we have plenty of donuts!
Now is the time to celebrate entrepreneurs and business owners. And now is the time to register to attend events during Entrepreneur Showcase Week – go to www.showcaseweek.com.  For additional information, contact the Innovation Connector at 765-285-4900 or by email: at nsmith@innovationconnector.com.
https://innovationconnector.com/wp-content/uploads/2022/11/Celebrating-Entrepreneurs-5.png
400
600
Ashli Smith
https://innovationconnector.com/wp-content/uploads/2015/09/IC_StackedLogo2.png
Ashli Smith
2022-11-08 18:47:56
2022-11-08 18:47:56
Announcing the Inaugural 2022 Entrepreneurs of the Year Award Winners