*Original Story posted on the Muncie Journal.*
Innovation Connector Helps Ashley and Bob Runkle Launch New Business: "Kiddo Keepsakes"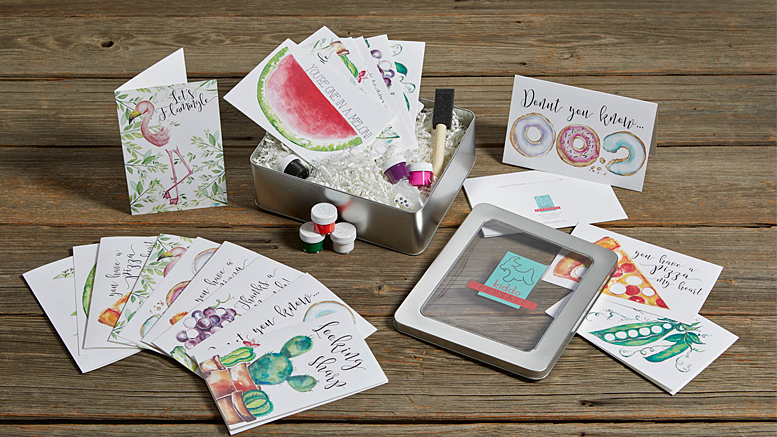 Muncie, IN—"Entertaining tiny humans and trying to get dinner made can sometimes feel like a noteworthy feat. Sometimes you need a new idea. Sometimes toys just lose their appeal and you have to get creative."  ~ From the blog of Ashley Runkle
"Getting creative" is exactly what Ashley Runkle and her husband, Bob, did just over a year ago when Ashley decided to be a stay-at-home mom after their second daughter was born.
An art major from Ball State University with 10 years' experience in technology, Ashley and her children were making a birthday card for her sister. She gathered her art supplies and began stamping fingerprints of her two daughters on her drawings to personalize the card. "Why isn't there an activity set like this already made that I can buy?". Looking around and not finding anything, Ashley shared the idea with her husband and family and all agreed it was an idea to pursue. It was an idea to pitch.
"It's more than just a greeting card, it's an activity and a keepsake that results in a memory", explained Runkle, creator and founder of Kiddo Keepsakes.
Ashley had previously attended the Innovation Connector's Excellence in Innovation Awards as a guest. When Kiddo Keepsakes was taking form in Ashley's mind, she immediately remembered the award program and signed up for the next Big Idea Pitch competition.
"Ashley is a great example of what I envisioned the BIG Idea Pitch to be," said Ted Baker, Executive Director of the Innovation Connector.  "Ashley attended each of the Training Camps that were available to her. There she learned how to fashion her idea into a business. After placing in the top 5 in the Final Competition, Ashley utilized the money that she was awarded, as well as, took advantage of each of the business services that were also part of the winning package," explained Mr. Baker.
Kiddo Keepsakes are children's activity sets that include everything needed to create personalized greeting cards using your kiddo's handprint, footprint, or fingerprints. Our kits include artist-rendered watercolor greeting cards, envelopes, paints, and brushes to create one-of-a-kind masterpieces to share with friends and family.
Runkle attests that the successful launch of her business is due to not only the support of her friends and family, but to the community, as well. "From the very beginning, I explained to Ted (Baker) that I wanted to stay true-to-life while building this new idea," said Runkle. "He connected me with an abundance of businesses in the community who partnered with me in marketing, photography and social media, to name a few. The community connections, the business coaching, and support of the Innovation Connector has been amazing."
When asked what some of the next steps are for Kiddo Keepsakes, Ashley said, "Like us on Facebook and follow us on Instagram for upcoming contests and sales. We are looking to align with Instagram influencers, too."
Ashley is pleased and proud to announce a Ribbon Cutting with the Muncie-Delaware County Chamber of Commerce on Thursday, December 7, 2017, at the Innovation Connector. "Why hold our ribbon cutting at the Innovation Connector? It's my home base. It's where it all started."
For more information, visit www.KiddoKeepsakes.com

For more information on how to Get Connected,  email Ted Baker at: tbaker@innovationconnector.com