The Innovation Connector is a traditional full-service business resource center (incubator) with the main purpose of supporting and accelerating the creation of successful technology-based and emerging companies in the Muncie community. One way this is accomplished is by advancing the entrepreneurial culture within businesses, schools, families and organizations. Current research indicates that "coding" is the new language of the next generation. Nearly half of the top jobs in demand in the United State are directly related to coding and programming.

With an eye on the future of our community, the Innovation Connector launched the Coding Connector on January 1, 2017 to help fill this need.  This initiative is intended to reach school aged youth in first through twelfth grades.  The courses offered are for females and males, beginners and advanced, and students from all social-economic backgrounds.
By teaming with TechWise Academy, the Coding Connector combines a state-of-the-art facility with fiber based internet access, computer resources, an active marketing and business center and the absolute best coding instructors and facilities in our community.
Please consider having your daughters and sons join us on this exciting and educational journey.  Coding does not have to be difficult to learn and we make it fun to learn.  Please join us as we teach your children …
"the NEW Language of the Future."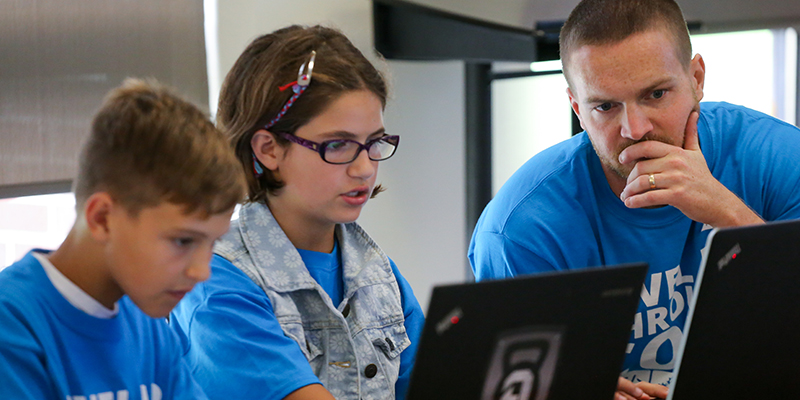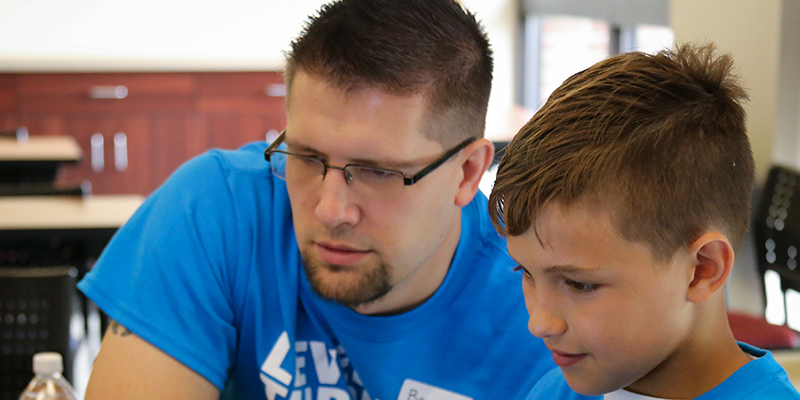 Foundations Track
Foundations Level 0
Target Audience:  Pre-K – 2nd Grade
Prerequisites:  None
Cost:  $20
Introduce coding concepts to pre/early readers! You might have a future coder at home that will love this class!
Activities
Learn the basics of programming using Scratch Jr.
Learn how to create algorithms (step-by-step instructions) for computers
Create a fun, interactive game during their first class!
Foundations Level 1-3
Target Audience: 3rd – 5th Grade
Perquisites: None
Cost:  $30 per Class Levels 1, 2 or 3 (2 hour courses each) or
Cost:  $50 for Day of Code which includes Level 1 & 2 – This class usually takes place on Saturdays from 9am-2:30pm with lunch being provided for each student
Are you interested in programming? Do you love video games, or do you just want to know how to make computers do cool things? Join us for 2 hours or 4 hours of coding fun and learn the basics of programming and create a game from scratch!
Activities
Level 1 – Introduction to Programming, 5:30 pm – 7:30 pm
Hour of Code – learn problem solving, critical thinking, and essentials of programming
Learn programming methods like loops, if statements, and events
Create a video game using Scratch with all of the lessons learned during class
Level 2 – Basics of Programming, 5:30 pm – 7:30 pm
Learn powerful programming methods like nested loops, functions, and advanced event handling
Create a more advanced video game using Scratch to share with family and friends
Level 3 – Intermediate Programming
Learn more advanced uses of functions and if/else statements
Customize functions
Create an advanced game using Scratch to share with family and friends
Game Design Track
Scratch Level 1
Target Audience:  4th-8th Grade
Prerequisite:  Familiarity with Scratch or completion of Foundation: Levels 1-3
Cost:  $75
Scratch is a great way to learn how to create games. Our Foundations courses are where we introduce you to Scratch, and now it's time to take Scratch to the next level! This course is taught over 3 sessions and will take you deeper into Scratch and create more complex games!
Activities
Learn about user interface design
Use advanced programming concepts such as variables, events, objects, control statements, loops
Use math to create gravity, angles, and more challenging game functions
Unity Level 1
Target Audience:  8th-12th Grade
Prerequisite:  Basic knowledge of computers and how to save/open files.
Cost:  $200
Want to write code and create a real game? Unity3D is a powerful tool that helps you easily create 3D games and applications for mobile, desktop, web, and consoles. In this course, you will learn how to create a game that can be run on PC, consoles, web, and mobile devices! This course is taught over 5 sessions and builds a strong foundation for game design!
Activities
Code in C# (a Microsoft object-oriented programming language)
Create scripts to control your game
Learn basic 3D modeling to create their game environment
Deploy your game to be run on your PC and more
Minecraft Party
Target Audience: 3rd-8th grade
Prerequisite:  None
Cost:  $20
Join us for a fun event to hang out, enjoy gaming, and learn about modding and programming for Minecraft!
Activities
Enjoy playing Minecraft with other people at the event
Learn how to create mods with Command Blocks
Share your great creations with the class and parents
Kodu Game Lab Party
Target Audience:  4th-8th grade
Prerequisite:  None
Cost:  $20
Do you love playing video games? Do you want to make your own? Learn about the Kodu Game Lab and spend time creating games with your friends.
Activities
Get introduced to the Kodu Game Lab
Learn how to create an interactive game
Create a game and share with the class and parents