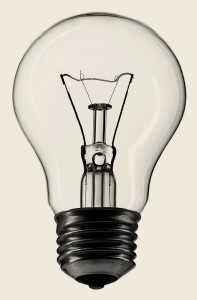 What are the Excellence in Innovation Awards?
It's time to celebrate the innovations that have made the Muncie community such a great place. As needs and opportunities have changed, businesses have had to adapt to survive. Innovation within those businesses lead to greater opportunity for success.
We celebrated five business owners/organizations that have survived change and remained solid anchors for our business community. The five recipients were honored as inductees into the Innovation Connector's "Innovation Wall of Fame". One local student was presented with the "Young Innovator's Award".
In the spirit of innovation, the finalists of The Big Idea Pitch Competition delivered their business ideas to all in attendance, and a panel of distinguished judges revealed the winners.
Congratulations
to this year's winners of the
2016 Excellence in Innovation Awards!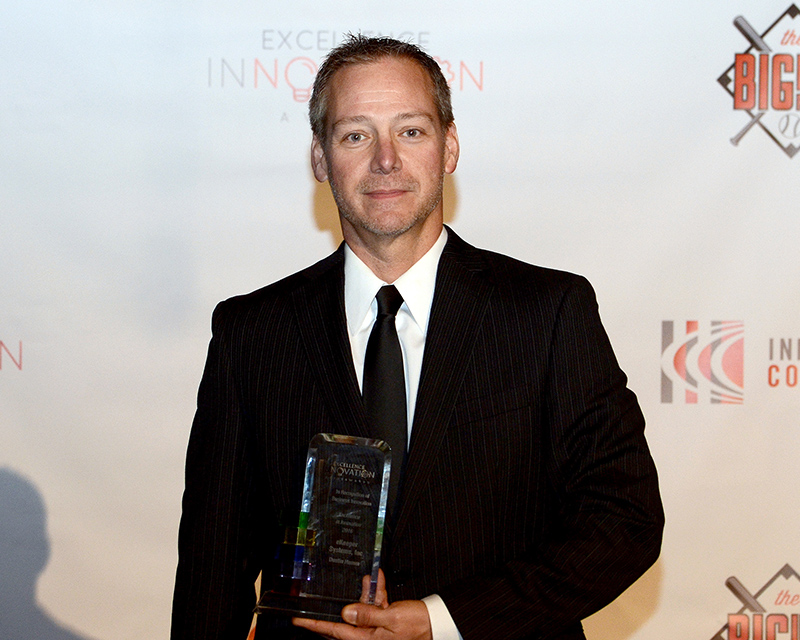 eKeeper Systems
eKeeper Systems Inc. is a consulting firm located in Yorktown, Indiana that specializes in designing, building, deploying and maintaining today's information technology systems. The company, led by its founder and president Dustin Humm, provides comprehensive computer, network and system support services to a diverse range of small, medium and large companies throughout Central Indiana. They take pride in maintaining many industry leading certifications from
the most prevalent manufacturers in the industry and they constantly strive to extend their technology experience into new areas every day.
eKeeper Systems Inc. strives to exceed their customers' expectations by providing 24×7 help desk services that allow us to be available when customers need assistance – any time. Innovation is a daily theme at eKeeper Systems. Their need for rapid and consistent change has proven to be effective in keeping their clients on the cutting edge of I.T.
Jay-Crew
Jay-Crew was founded by Jason Brooks in Muncie in 1996 with a couple of mowers, a group of college friends, rented garage space, and a strong desire to take care of their clients. Today, the Jay-Crew team of more than 60 employees provides professional Landscaping, Lawn Care, Irrigation, and year-round Maintenance Services to keep businesses looking their best.
Now 20 years later, Jay-Crew has expanded their service reach with a dedicated location in Indianapolis to serve commercial clients in Hamilton County on the north side in addition to the rapidly growing west side. This area includes the communities of Avon, Brownsburg, Plainfield, Mooresville, and even Greenwood.
Jay-Crew was founded on the principles of Honesty, Pride, and Professionalism. These guiding principles have been central to their success and growth in a very competitive industry. They believe average service is unacceptable, which is why their team is committed to Building Lasting Impressions on every project.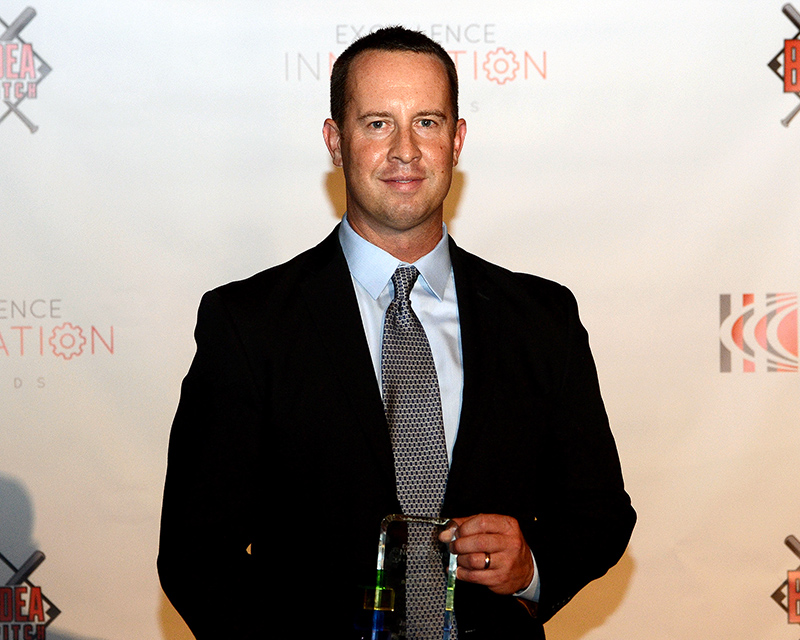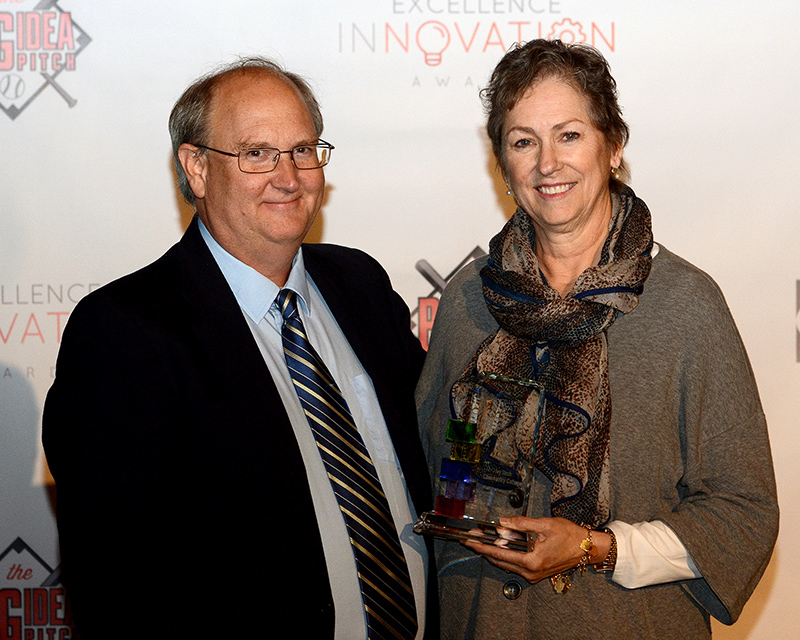 Math Pathways Team – Ivy Tech Community College
Innovation can happen in nearly every business, educational, or organizational sector. We are pleased to celebrate a remarkably innovative initiative within education. Co-Chair Dr. Rob Jeffs and his Ivy Tech Community College team have led a statewide technical math initiative, called Math Pathways.
Once a major stumbling block for students pursuing an education at Ivy Tech, Math Pathways provides a refreshed approach to teaching students math skills that will directly apply to the students' area of study. Instead of receiving general math related education, students now receive specialized math training focused more toward the actual math skills that will be needed for their major area of study. Success rates (passing the class vs. failing the class) have improved drastically – from a 13% pass rate to a nearly 72% pass rate. The Math Pathways initiative is not only taking place in East Central Indiana, but throughout the Ivy Tech statewide system. In addition, Math Pathways is being initiated in colleges throughout the United States.
Thank you to the Ivy Tech Community College's Math Pathways team. You truly have utilized innovative thought leadership to make a difference in the lives of the
next generation.
R &R Engineering Company, Inc.
R & R Engineering Company Inc. is a story of family success. Founder and President, Ralph Amos, has led this business with his children, Janet (Amos) Holcomb, Scott Amos, and Carrie (Amos) Fisher, who have been instrumental to the growth and sustainability of his business. Currently employing forty Indiana residents, R & R continues to impact Summitville, IN and the surrounding area.
Around the time R & R was founded in 1969, new steel wire threading technology was being developed for the fastener industry known as Planetary Thread Rolling Machines. Traditional Flat Die Rollers developed in the 1950's were the industry standard. The newer Planetary Thread systems offered production rates up to five times faster than the traditional methods while improving the quality of production runs. Realizing the potential of this new equipment, R & R decided to invest heavily in the new technology. Today, R & R Engineering Company Inc. manufactures tens of millions of individual parts per year in their 235,000 sq. ft. facility.
By adapting to this new technology as well as empowering employees through training and education, R & R Engineering Company Inc. is a world leader in the threaded bolt/U-bolt industry. We are proud that East Central Indiana is their business home. Well done!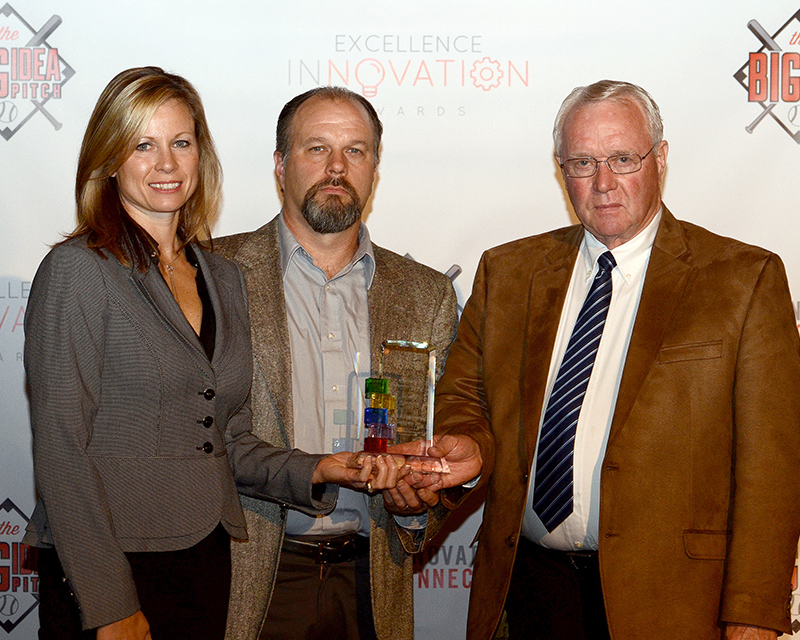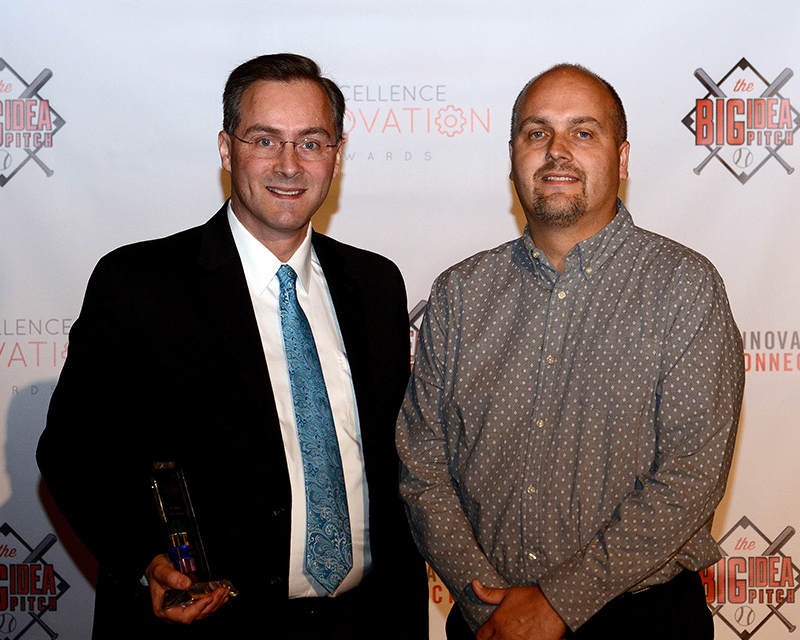 Small Engine Warehouse
Small Engine Warehouse Inc. may just be one of the secret gems that make the Muncie community a special place to live and do business. This organization was started by Roy Padgett Sr. in the early 1970's and became his full-time job starting in 1982. Son and current co-owner, Tim, began managing the business after graduating high school in 1986. Tim focuses his time and energy locating and purchasing engines, along with sales and manufacturing management. Located in Dunkirk, the business was primarily shipping replacement engines sold though farm, auto, and landscape magazines. Another son and current co-owner, Roy, came to the business in 1999 as the internet was starting to become more prominent. Roy brought administrative, financial and technical aspects to the company to seize the opportunities for growth and change that were created by these new technologies. This led Tim and Roy to purchase the business from their father. It was Small Engine Warehouse's time to be innovative.
The company's online sales in 1998 amounted to $1,000. Through learning how to sell online and by investing in e-commerce sales tools, in 1999 the company's online sales grew exponentially to $1,000,000 with only eight employees. The growth that followed required continual warehouse expansion, hiring and creating an employee structure, and the constant search for more engine inventory. In 2002, Small Engine Warehouse started manufacturing kits to replace lawnmower engines that were no longer available. In 2008, they purchased Mr. SupeRent and the former Ross Supermarket building and opened a retail store on Wheeling Avenue in Muncie. In 2012, the company bought the former Boyce Forms building on Riggin Road and moved the corporate headquarters and call center there. Due to continued expansion, in 2014, the company bought the former South Kmart and moved the remaining assembly and warehouse operations there.
Today, Small Engine Warehouse employs 65 people with online business from their website. eBay and Amazon stores account for 70% of company sales, shipping to an average of 36 states per day. Sales are supported by having over 20,000 engines in stock in the business' 125,000 sq. ft. warehouse space.
Businesses like Small Engine Warehouse do not expand and flourish without a constant eye on market conditions and identifying customers' needs. Their continual innovative processes are the key to the success of the company and is why we congratulate Small Engine Warehouse Inc. for receiving this award.
Excellence in Innovation Mentorship Award
Stefan S. Anderson
The Innovation Connector is proud to present the first Excellence in Innovation Mentorship Award to Mr. Stefan S. Anderson.  Mr. Anderson is retired from First Merchants Bank where he served as CEO.  But being retired, in Steve's world, does not mean "just sitting around and doing nothing." His volunteer credentials and hours served with many organizations and businesses are too numerous to count.  Steve has volunteered for Ball State University in many capacities, the Nature Conservancy, the Indiana State Museum, Delaware Advancement Corporation, the Muncie-Delaware County Chamber of Commerce, Community Foundation of Muncie and Delaware County just to name a few of the community organizations in which he has invested his time and energy.  He is also a Founding Board Member and current Emeritus Board Member of the Innovation Connector.  From the Innovation Connector's Executive Director, Ted Baker,
Steve Anderson has not only been a leader in the development of this innovation center, he has been a personal mentor to me.  For over 6 years I have heard his consistent encouragement to me: 'Focus! Focus on the organization's Mission and Vision and how to best serve the client companies.  Don't allow yourself to be distracted by the other good things around you. Focus.'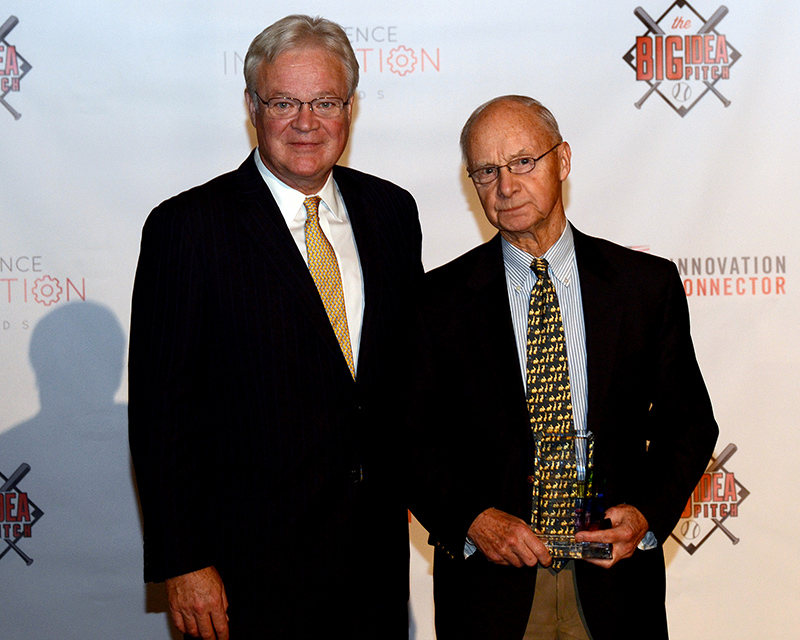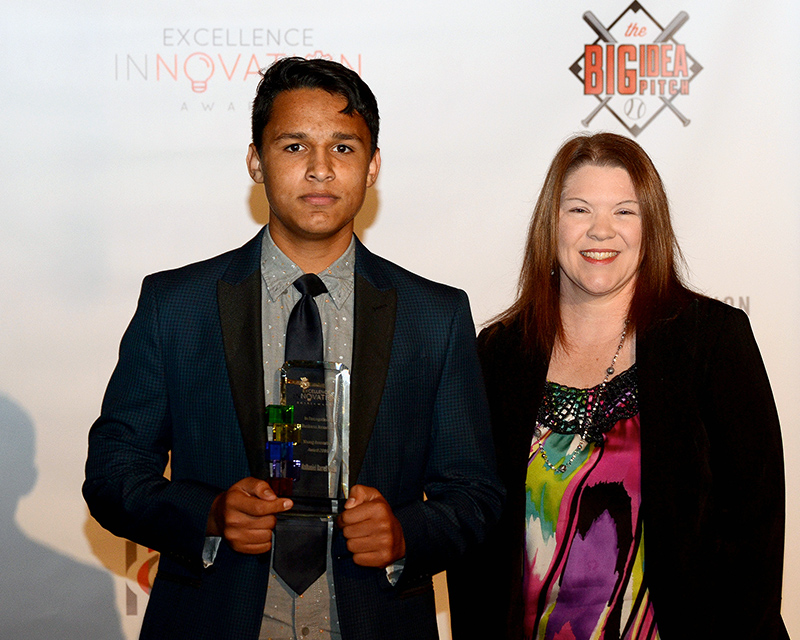 Young Innovator's Award
Nathaniel Spell
In December of 2015, Nathaniel Spell was trying to come up with a new name for his marketing business idea. At the time, it was called Vidaphobic. As Nate set out to make a name for himself, he produced a few videos along with a stint editing for a local producer. But the Vidaphobic name just never had that real ring to it. It was unique, but it didn't pack a big punch. After a few hours of staring at a blank Photoshop slate, a new name popped into his head – "THEM".
Just like Vidaphobic, THEM had no real backstory to explain what it stood for. But it captured Nate's interest enough to continue exploring the idea. In between sessions of playing an online game called Roblox, and contemplating what to do with THEM, he let his mind wander and created a faux-magazine cover. That's when things took off.
He shared his new design with some online friends and the excitement began to grow. Then the thought came to actually make a magazine. An online magazine, that is, directed towards the fans and users of Roblox. The magazine's popularity continued to grow, and then a wonderful opportunity presented itself. In May of this year (2016), Roblox invited Nate to attend their annual Developer's Conference (RDC) in San Jose, California. While not a programmer or game developer, Nate was also designing graphics for other game makers, including the chief social media manager for Roblox. It just so happened that this particular conference was celebrating Roblox's 10th year. And, it was to start on the same day that Nate had already planned to release (and had already published the release date) for the 5th Issue of THEM Magazines.
Nate seized the opportunity and contacted Roblox to see if they would like to collaborate in order to celebrate their mutual milestones. Roblox loved the idea and responded with a resounding YES. They asked him to print 500 copies of his magazine! Working with local companies A-1 Graphics and IronGate Creative, Nate was able to translate his electronic magazine into something you could actually hold in your hands and turn the pages! Every attendee at RDC16 received their own copy. Also, Post Cereal had an advertisement placed in this printed copy. Currently Nate is working with the Director of Marketing at Roblox, along with their social media manager, to continue to grow the magazine and the relationship with Roblox, INC.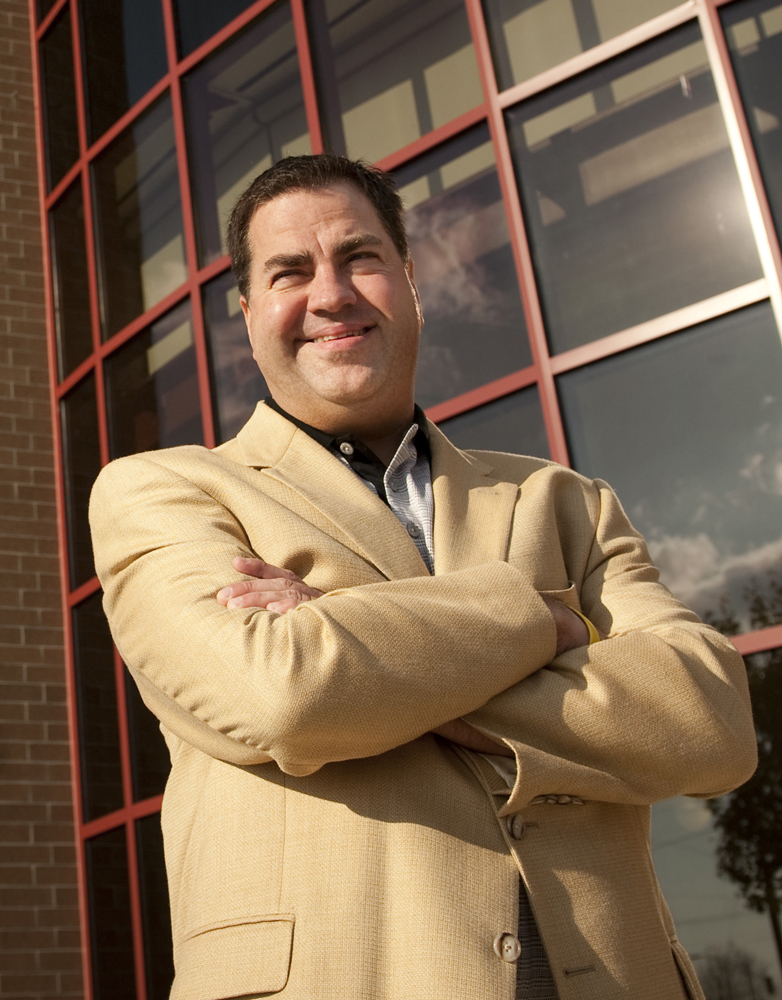 2016 Keynote Speaker – Karl LaPan, President & CEO of Northeast Indiana Innovation Center/Park
LaPan is a business professional with nearly 30 years' experience in a variety of consumer, industrial, technology,healthcare services & financial companies. Since 2000, he has served as president/CEO of the Northeast Indiana Innovation Center/Park, a high-tech, high-touch 55-acre campus dedicated to accelerating the growth of innovative companies. A life long learner and educator, LaPan has previously served as an associate faculty member and an adjunct professor in MBA programs. He also serves on advisory boards at Science Central, as well as several start-up companies and regional healthcare and financial services companies.
You can learn more about LaPan by visiting www.niic.net.
A big thank you to our 2016 sponsors!